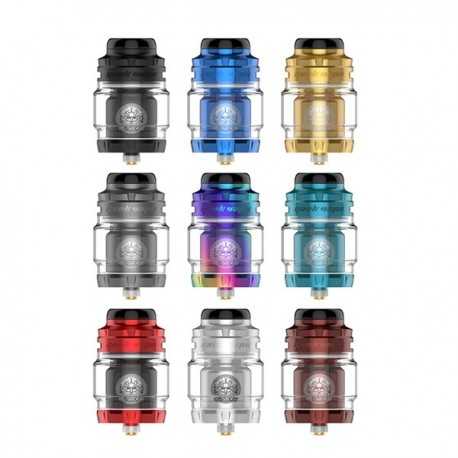 zoom_in
The Zeus X Mesh RTA de Geekvape is a reconstructive atomizer with a diameter of 25mm and benefits from improvements compared to its big brother!
Indeed, its tray can now accommodate mesh mounts, including two clamp posts that will keep your mesh sheet well.
Can accommodate a pyrex bulb (4.5ml) but also a classic pyrex, also provided

Description
The Zeus X Mesh RTA is a 25 mm diameter reconstructive atomizer that significantly echoes the design of its predecessor. On the atomization chamber we find a superb engraving of the god of Olympus... The latter stares at you and keeps your eyes on when you go for the 4.5 ml of eliquide injected into the bulb pyrex. The big change is the Deck! The assembly tray was designed to accommodate a mesh assembly. Geekvape has installed two clamp posts that help to hold the mesh sheet firmly. Geekvape has also positioned a spring module that makes it possible to put for sure the right amount of cotton.
Geekvape's Zeus X Mesh RTA evolves without denying its origins. If the look remains unchanged, the mesh mounting tray comes with new and colourful possibilities.
The Zeus X Mesh RTA is ... a Zeus. Geekvape's new reconstructive atomizer retains the look of its little brother. The engraving has also been preserved. Located on the atomization chamber, the latter represents Zeus, the god of Olympus. Beautiful program in perspective! The finishes are still as good and the Zeus X Mesh RTA still has an adjustable airflow located on the top and a top-fill filling. The latter allows you to quickly fill the tank with 4.5 ml of capacity! The Zeus X Mesh RTA does not innovate aesthetically but stands out for its mesh-deed assembly tray.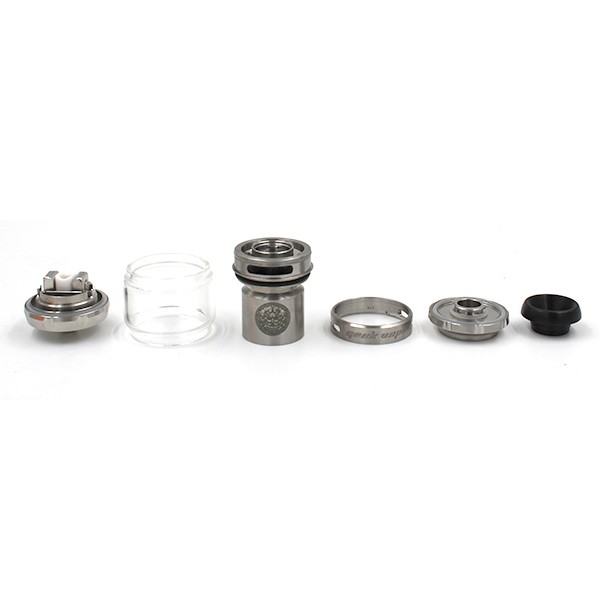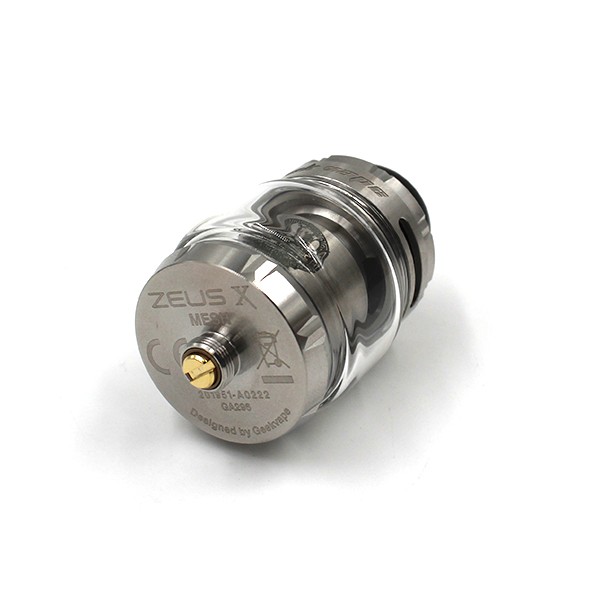 The change is radical! The deck located inside the atomization chamber is unique is teamed with two posts to clamp. Thanks to these, the Geekvape atomizer can receive a mesh sheet. The mesh is making a comeback and offers a substantial lifespan and an excellent return of flavours. In order to make the Zeus X Mesh RTA accessible to all vapoteurs, Geekvape has installed a spring module that rises or falls under the weight of cotton. This piece ensures a perfect contact between cotton and mesh leaf. Ingenious!
Vapers are becoming more and more fond of Mesh. This leaf is pierced by a multitude of holes and has many advantages. The first is lifespan. Unlike a conventional coil, the mesh sheet offers a larger heating surface and therefore a slower deterioration of the material. The second point that will delight gourmets is the flavours. The Mesh allows to sublimate the eliquides and delivers a softer, less aggressive vape. In addition, the Mesh is easy to work with. All good points!
Diamètre de connexion

25 mm

Type de vape

Inhalation directe

Type de fumeur

Infatigable
You might also like 1 other product seleted for you