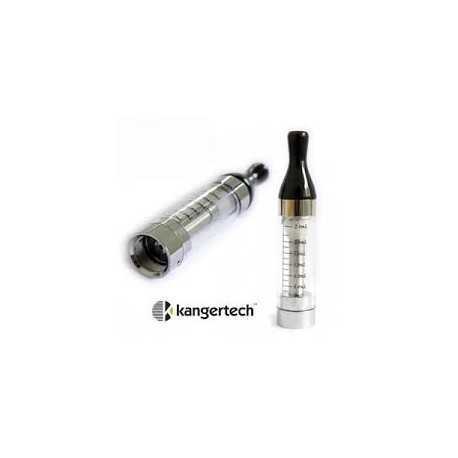 zoom_in
Clearomiseur Kangertech Kanger T2 KANGERTECH
Description
The Kanger T2 is an ideal hot steam clearomiseur to start with
The Kangertech T2 is a bit of a Jeep of clearomiseurs. Easy to fill and maintain, its hot steam is easily modulated with 3 resistance values. Its value for money is excellent in both purchase and maintenance. It produces a powerful vapor that is well suited to tobacco aromas.

A simple and efficient technology is often the best: you can start with a Kanger T2, realize that you found the "good" clearomiseur the first time, and continue with this model for years. It is also an excellent backup clearomiseur to leave at the bottom of its kit. Another advantage, and not least: it does not "glutton" if it is in good condition.

A Kanger T2 user wanting to switch to a more advanced clearomiseur will generally be satisfied with a Aspire AND or one Aspire ET-S Glasstube, equivalent hit and capacity.
Features of Kanger T2
The Kanger T2 clearomiseur benefits from unbeatable value: its head (together resistance-mêches) can be replaced, at a cost much lower than that of a disposable clearomiseur. It is a good quality material and a very simple maintenance: just remove the tip, unscrew the head between the thumb and forefinger and put a new one instead, being careful to slide the strands forward.
Because the resistance is placed at the top of the clearomiseur, near the tip, the Kangertech T2 produces a hot steam. The lower the value of this resistance, the hotter the steam will be. Kangertech offers three resistance values for replacement heads:
1.8 Ohms : will produce 7.5 Watts to 3.7 Volts
2.2 Ohms : will produce 6.5 Watts to 3.7 Volts
2.5 Ohms : will produce 5.5 Watts to 3.7 Volts
Its large drip-tip greatly facilitates direct filling from the liquid vial: it is not even necessary to tilt the tank. With a capacity of 2.4 ml, this make-up has reserves for the whole day. Several colors are available, useful for recognizing different liquids.
The Kanger T2 can be washed with lukewarm water between two liquids or for maintenance: tank, wick, tip. Carefully dried with a paper towel, it will be reusable immediately. Just don't pull the wicks to not destroy the head.
As with all atomizers, during use the resistance eventually clogs and burns the wick, and the steam becomes less abundant with a burning smell. The life of the head is in the range of 10 to 15 fillings, depending on use (long aspirations wear it prematurely). Replacement heads are available on the site in packs of 5 (see Accessories tab) and are particularly economical. With certain precautions (removing the joint from the wick beforehand) it is even possible to carry out a dry burn (pyrolysis of the wick) to refurbish it.
Manufacturer: Kangertech
Connector: Ego (outdoor threading of eGo batteries)
Ability: 2.4 ml graduated, the equivalent of 25 cigarettes
Comes with its first head-resistance 1.8 Ohms 10%
It is possible to install a solid and aesthetic aluminium drip-tip