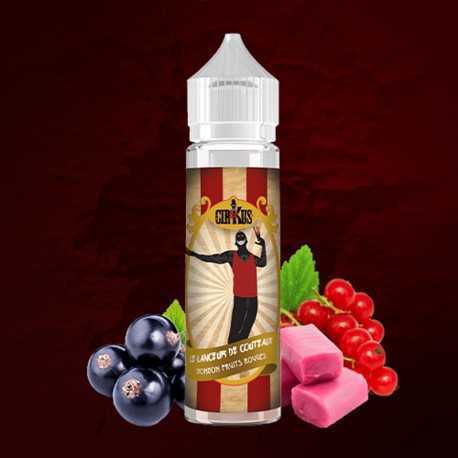 zoom_in
Groseille - Cassis - Creamy Candy
----
Teasing and without half measure, the blades of his choppers spare no one, he chokes with laughter. To soften the character, only sweets work, but not just any, slightly creamy red fruit candy
----
60ml flask fills 50ml of nicotine-free e-liquid to boost.
PG/VG 50/50
E-liquid The Knife Launcher 50ml
Reference:

Le Lanceur de Couteaux 50ml

Description
All our e-liquids are manufactured and controlled in our laboratory in Cestas in Gironde.
The Black Cirkus collection consists of a PG/VG base: 50/50
Composition:
Propylene glycol and vegetable glycerin, of PE quality (European
Natural and synthetic food aromas of vapological quality. They contain no sugar or gum.
Ultra-pure water (Milli-Q).

USE TIPS




Packaging:
Our Black Cirkus e-liquids are packaged in PET vials with a capacity of 60ml, with a dropper, an inviolability ring and a child safety cap.
In accordance with EU law, each bottle has a personalized labeling of the design and name of the flavour, the composition of the e-liquid, the nicotine level, the company's name, address and e-commerce site, minimum durability date and lot number.

RECYCLING BOTTLES:
The logo
affixed below our empty packaging, once rinsed with water, are recyclable.


Nicotine levels0 mg/ml
Analyses:
Our e-liquids are regularly analysed with the constant concern for optimal traceability and safety (microbiological analyses and chemical analyses: nicotine and impurities, aromatic spectrum, absence of formaldehydes, acetaldehydes, parabens).
All of our e-liquids comply with XP-D90-300 Part 2 (diacetyl rate well below 22 ppm) and for constant safety reasons, we also monitor levels of acetyle propionyl, hexane 2.3 dione and acetoin).

Clp:


Attention. May cause a skin allergy. Keep children out of reach.
Contains 2-BUTEN-ONE,1-(2.6.6-TRIMETHYL-1.3-CYCLOHEXADIEN-1-YL), FURANEOL-R,METHYL CINNAMATE, D-LIMONENE.