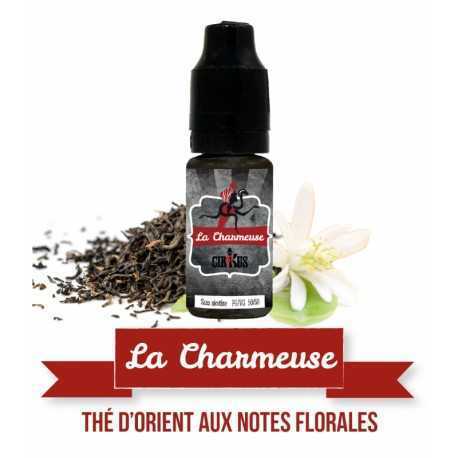 zoom_in
Oriental tea with floral notes

----
Bewitching, it will be difficult to get rid of this oriental tea that will captivate you with its floral notes.
----
Flask 10mL PET NOIR .
PG/VG 50/50
----
E-liquid manufactured in our laboratory in Pessac (33).

Description
Find out more
The Black CirKus collection is available with a PG/VG rate of 50/50.
Composition:
Propylene glycol and/or vegetable glycerin, of PE quality (European
Natural and synthetic food flavours, all produced in France according to the requirements of our specifications. They contain no sugar, oil, diacetyl (where in trace condition), gum, GMO substances, or any of the allergenic aromatic substances subject to a reporting obligation.
Ultra-pure water (Milli-Q),
Alcohol (supporting our natural aromas) for the following flavors: The Bearded Woman and The Illusionist.
Possibly pure liquid nicotine, usP quality, extracted from tobacco capes. This is regularly analysed in purity and concentration thanks to our in-house analysis (HPLC chromatography and gas/mass spectrometer), and compared to standards provided by accredited laboratories.
Packaging:
Black CirKus e-liquids are packaged in black polyethylene terephthalate plastic bottles (without bisphenol), with a capacity of 10ml, with a dropper, an inviolability ring and a child safety cap (ISO 83 17).
In accordance with European law, each bottle has a personalized labeling mentioning the design and name of the flavour, the composition of the e-liquid, the nicotine level, the name, the company's e-commerce address and website, the optimal use-by date and the lot number.
For nicotine e-liquids, a regulatory pictogram, cautionary advice and a "Danger" touch sticker for visually impaired people are placed on the vial.
Nicotine levels0 mg/ml, 3 mg/ml, 6 mg/ml, 12 mg/ml
Analyses:
Our e-liquids are regularly analysed with the constant concern for optimal traceability and safety (microbiological analyses and chemical analyses: nicotine and impurities, aromatic spectrum, absence of formaldehydes, acetaldehydes, parabens).
All of our e-liquids comply with XP-D90-300 Part 2 (diacetyl rate well below 22 ppm) and for constant safety reasons, we also monitor levels of acetyle propionyl, hexane 2.3 dione and acetoin).
INFORMATION ON NICOTINE-CONTAINING PRODUCTS:
Warning: harmful by skin contact. In case of contact with the skin: wash thoroughly with soap and water. Keep children under lock and key. Call a poison control centre or doctor if you feel unwell.