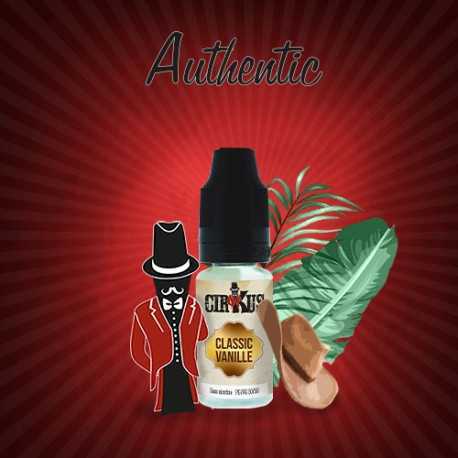 zoom_in
A subtly spicy full-bodied Classic, enhanced by sweet notes of summer honey

--------
Recycled plastic bottle (PET1) of 10 ml of e-liquid developed in our laboratory in Cestas (33).
Based on natural aromas and synthesis.
--------
Available only with a PG/VG rate of 50/50.

Description
VAPOLOGICAL NICOTINE VDLV IS NOW AVAILABLE IN THIS E-LIQUID


All our e-liquids are manufactured and controlled in our laboratory in Cestas in Gironde.
The Authentic collection consists of a PG/VG base: 50/50
Composition:
PROPylene glycol and PE-grade vegetable glycerin (European Pharmacopeia)
Natural and synthetic food aromas of vapological quality. They contain no sugar or gum.
Ultra-pure water (Milli-Q).
Possibly pure liquid vapological nicotine, manufactured in France by VDLV, of PE quality, extracted from tobacco leaves. This is regularly analysed in purity and concentration thanks to our in-house analysis (HPLC chromatography and gas/mass spectrometer), and compared to standards provided by accredited laboratories.
Packaging:
The e-liquids of the Authentic range are packaged in polyethylene terephthalate plastic bottles (without bisphenol), recycled (PET1), with a capacity of 10ml, equipped with a dropper, an inviolability ring and a child safety cap.
In accordance with European law, each bottle has a personalized labeling mentioning the design and name of the flavour, the composition of the e-liquid, the nicotine level, the name, the company's address, the optimal use-by date and the lot number.
For nicotine e-liquids, a regulatory pictogram, cautionary advice and a "Danger" touch sticker for visually impaired people are placed on the vial.

RECYCLING BOTTLES:
The logo
affixed below our empty packaging, indicates that once rinsed with water, they are recyclable.
Nicotine levels0 mg/ml, 3 mg/ml, 6 mg/ml, 12 mg/ml, 16 mg/ml
Analyses:
Our e-liquids are regularly analysed with the constant concern for optimal traceability and safety (microbiological analyses and chemical analyses: nicotine and impurities, aromatic spectrum, absence of formaldehydes, acetaldehydes, parabens).
For the sake of constant safety, we also monitor levels of acetyl propionyl, hexane 2.3 dione and acetoin).
INFORMATION ON NICOTINE-CONTAINING PRODUCTS:
| | |
| --- | --- |
| | Harmful warning if swallowed. Keep children out of reach. If swallowed: call a poison control centre or a doctor. |