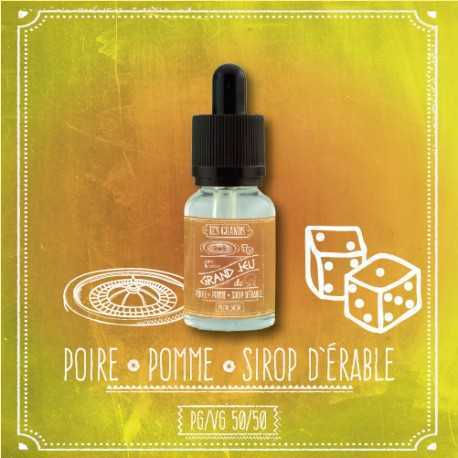 zoom_in
A gourmet e-liquid!
The start is launched, roulette panics: here is the Vegas torchbearer. The one who blows up the bank with a gourmet mix of pear and apple combined with a touch of vanilla and maple syrup for roundness!
----
10ml bottle glass with pipette
E-liquid manufactured in our laboratory in Cestas (33).
E-liquid Grand Jeu by vincent in vapes 10ml

Description


VAPOLOGICAL NICOTINE VDLV IS NOW AVAILABLE IN THIS E-LIQUID



Composition:

- Propylene glycol and/or vegetable glycerin, PE quality (European pharmacopee)
- Exclusively natural food flavourings produced according to the requirements of our specifications. They contain no sugar or gum.
- Alcohol (3.7% Vol., support of our natural aromas) and ultra-pure water (Milli-Q)
- Possibly pure liquid vapological nicotine, manufactured in France by VDLV, of PE quality, extracted from tobacco leaves. This is regularly analysed in purity and concentration thanks to our in-house analysis (HPLC chromatography and gas/mass spectrometer), and compared to standards provided by accredited laboratories.
Packaging:
Our "Les Grands" e-liquids are packaged in 10ml glass bottles with a glass pipette, an inviolability ring and a child safety cap.

In accordance with European law, each bottle has a personalized labeling mentioning the design and name of the flavour, the composition of the e-liquid, the nicotine level, the name, the company's e-commerce address and website, the optimal use-by date and the lot number. For nicotine e-liquids, a regulatory pictogram, cautionary advice and a "Danger" touch sticker for visually impaired people are placed on the vial.



Analyses:
Our e-liquids are regularly analysed with the constant concern for optimal traceability and safety (microbiological analyses and chemical analyses: nicotine and impurities, aromatic spectrum, absence of formaldehydes, acetaldehydes, parabens).
All of our e-liquids comply with XP-D90-300 Part 2 (diacetyl rate well below 22 ppm) and for constant safety reasons, we also monitor levels of acetyle propionyl, hexane 2.3 dione and acetoin).
INFORMATION ON NICOTINE-CONTAINING PRODUCTS:
| | |
| --- | --- |
| | Harmful warning if swallowed. Keep children out of reach. If swallowed: call a poison control centre or a doctor. |