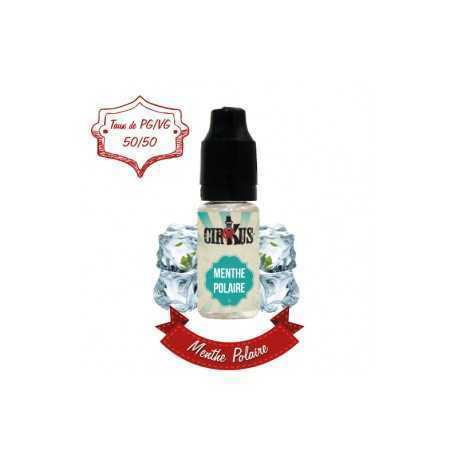  
E-liquid Polar Mint by cirkus 10ml
Welcome to Antarctica where a real polar cold blows. --------- Recycled plastic flask (PET1) of 10 ml of e-liquid developed in our laboratory in Pessac (33). Based on natural aromas and synthesis. 
100% Secured Payment
By Credit Card or Paypal
Free Shipping for Orders over 60€
Only for UE's members countries
Satisfied or Refunded
14 days to change your mind
All our e-liquids are manufactured and controlled in our laboratory in Pessac in Gironde. The Authentic collection is composed of a PG/VG base: 50/50 Composition: Propylene glycol and pe quality vegetable glycerin (European Pharmacopée) Natural and synthetic food aromas produced according to the requirements of our specifications. They contain no sugar, oil, diacetyl (or trace), gum, GMO substances, or any of the allergenic aromatic substances subject to a reporting obligation. Ultra-pure water (Milli-Q) Possibly alcohol (support of our natural aromas) for the following flavors: Red Fruits, Lemon Ice, Custard Vanilla, Caramel Apple, Gourmande Peach, Red Absinthe, Absinthe Apple, Fruity Pamp'. Possibly pure liquid nicotine, usP quality, extracted from tobacco capes. This is regularly analysed in purity and concentration thanks to our in-house analysis (HPLC chromatography and gas/mass spectrometer), and compared to standards provided by accredited laboratories. Packaging: Authentic e-liquids are packaged in polyethylene terephthalate plastic bottles (without bisphenol), recycled (PET1), with a capacity of 10ml, with a dropper, an inviolability ring and a child safety cap. In accordance with European law, each bottle has a personalized labeling mentioning the design and name of the flavour, the composition of the e-liquid, the nicotine level, the name, the company's address, the optimal use-by date and the lot number. For nicotine e-liquids, a regulatory pictogram, cautionary advice and a "Danger" touch sticker for visually impaired people are placed on the vial. Nicotine level: 0 mg/ml, 3 mg/ml, 6 mg/ml, 12 mg/ml, 16 mg/ml Analyses: Our e-liquids are regularly analyzed with constant concern for a tracea
No customer reviews for the moment.
Customers who bought this product also bought: