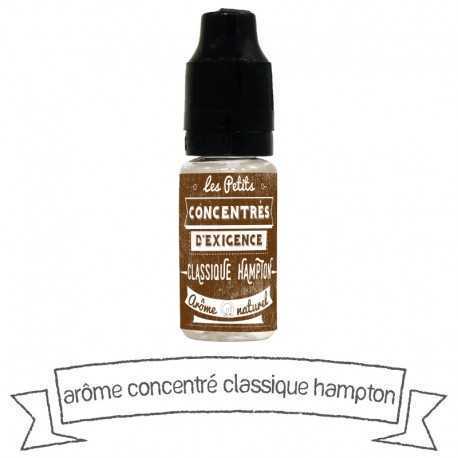  
Hampton classic aroma by vincent in vapes 10ml
A Burley-type CLASSIC  
A blend of classic blond, dry, shades of dark chocolate for a vape all day.
----
Recycled plastic bottle (PET1) of 10 ml concentrated aroma developed in our laboratory in Pessac (33) -
Beware, this is a concentrated aroma, it is not consumable as it is and must be diluted in a PG/VG base.
100% Secured Payment
By Credit Card or Paypal
Free Shipping for Orders over 60€
Only for UE's members countries
Satisfied or Refunded
14 days to change your mind
Learn more
Composition:
- Exclusively natural food flavourings produced according to the requirements of our specifications. They contain no sugar, oil, diacetyl (or possibly trace), gum, GMO substances, or any of the allergenic aromatic substances subject to a reporting obligation,
- PE quality propylene glycol (European Pharmacopeia) as the basic support for the'Aroma.
Determination:
Our concentrated aromas are not consumable as they are, they must be diluted in a base.
For 10ml of e-liquid, we recommend dilution
- 10% of the total volume (about 30 drops) on a PG/VG basis of 70/30.
-       15% of the total volume (about 45 drops) on a PG/VG basis of 50/50.
- 20% of the total volume (about 60 drops) on a PG/VG basis of 30/70.
 Packaging:
Our concentrated aromas are packaged in polyethylene terephthalate plastic bottles (without bisphenol), recycled (PET1), with a capacity of 10ml, with a dropper, an inviolability ring and a child safety cap (ISO 83 17).
In accordance with European law, each bottle has a personalized labeling including the name of the flavour, the composition of the product, the company's name, address and website, the optimal use-by date and the lot number.
Conservation:
We advise you to keep these aromas out of the light, in a dry and temperate place out of the reach of children and animals.
No customer reviews for the moment.
Customers who bought this product also bought: