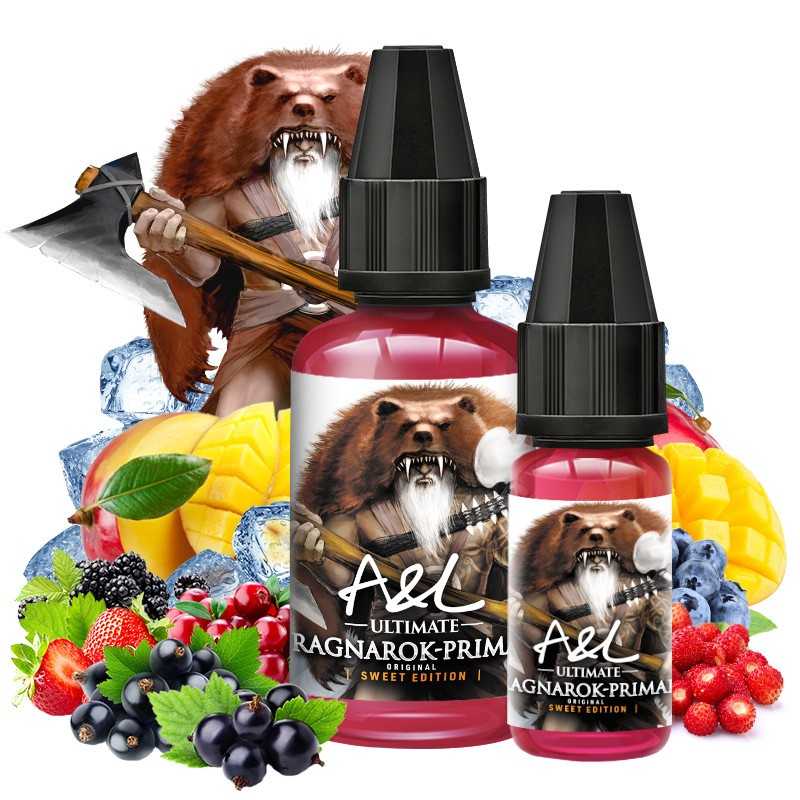 zoom_in
Concentrate Ragnarok Primal 30 ml Ultimate. Ragnarok and its army of red fruits, strawberries, raspberries, blueberries, currants and blackcurrants, evolves with a little sweetness and a nice balanced note of mango. The whole thing remains, of course quite fresh!
Concentrate Ragnarok Primal Ultimate is packaged in 30 ml bottles and made in France. Mix in a PG/VG base of your choice.
Recommended dosage: 6% base 50/50 PG/VG.
Ripening time: 3 to 7 days
Ragnarok Primal concentrate 30 ml is manufactured by Ultimate.
Concentrate Ragnarok Primal 30ml Ultimate by Aromas and Liquids

Description
All the sweetness of red fruits with the exoticism of mango
Find your Ultimate Ragnarok Primal concentrate in two versions:
Green Edition which ensures that you are completely without sucralose and any other sweetener-related derivatives.
Sweet/Original, a version with sweet notes.
Who's behind this amazing concentrate? Beneath his bear skin, his mysterious look and his great man looks hides a very different person! Primal presents himself to you with the Ragnarok crest and the ultimates.
Like its peers, its heart made of red fruits dominates the recipe. However, it differs thanks to the addition of a mango note. A sweet and juicy fruit that brings to this recipe a dimension of comforting warmth that one cannot suspect at first glance...
The legendary recipe in a new guise
You know it intensely fruity, it's time to discover it with an extra hint of sweetness. The Ragnarok concentrate is making a new beauty and comes back with a little extra charm called Primal!
True to itself and its Nordic origins, this concentrate obviously retains its base of intensely greedy red fruits. You will also find all the freshness that brilliantly characterizes the range of Ultimate.
The little news is nothing but a delicious and curious mango. She brings to the recipe all the sweetness and exoticism that primal hid in the depths of its being.
More information
Ragnarok Primal from the A-L Ultimate range is a concentrated aroma made in France that must be mixed with the base of your choice to make e-liquid for e-cigarettes.
It is dosed from 27 drops to 10ml and you will let it mature for three to five days for optimal rendering. It is available in PET bottles with thin tips and with a safe children in 10 or 30ml.
Be careful, it is a concentrated aroma that should not be consumed as it is. It must be diluted with a PG/VG base of your choice before being used in your e-cigarette.
You might also like 14 other products seleted for you