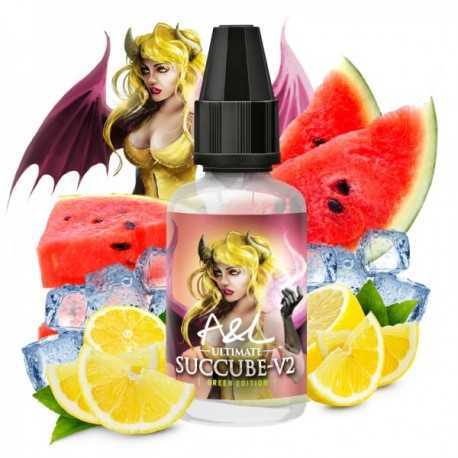 zoom_in
Concentrate Succube V2 Ultimate. A tasty, fresh cocktail of red watermelon and lemon zest.
A range of Ultimate concentrates to mix with a PG/VG base for the manufacture of your e-liquids for e-cigarettes.
Dosage tip in a 50/50 PG/VG base: 6%
Maturation time: about 1 week
The Succube V2 concentrate is manufactured in France by Ultimate.
Concentrate Succube V2 30ml Ultimate by Aromas and Liquids

Description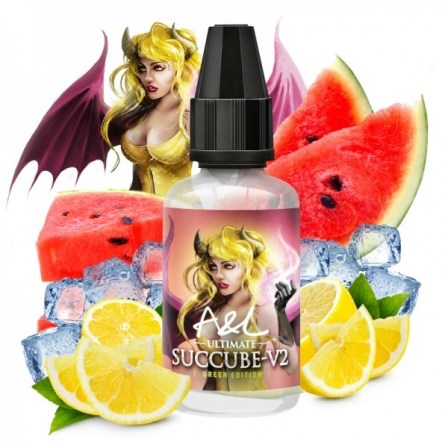 Watermelon - Lemon - Fresh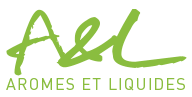 Ultimate's V2 Succube concentrate is full of love! The goddess of vape is considered irresistible... Legend has it that her lips are as sweet as watermelon and as sparkling as lemon... Succumb to the charm of this wonder and let it embrace you and invade you with its unique flavors sometimes complex, sometimes fresh. Succubus V2 pushes pleasure to its climax!
The dosage tips below concern a dosage 50% PG / 50% VG. Add a little aroma if your VG level is higher and vice versa.
An exceptional Ultimate concentrate
Aromas and Liquids invites you to rediscover its Ultimate Succube V2 concentrate in the "Green Edition" version. A name that ensures you have a total absence of sucralose and any other sweetener derivatives to ensure you have the best quality product possible.
The mesmerizing goddess Succube calls you with the gaze... You can't resist. His eyes, his mouth, his curves, everything is irresistible. Especially since its majestic wings make it a creature that cannot be described as human or animal. Only incomparable power radiates around this goddess. This triggers the highest lusts.
TECHNICAL SHEET - V2 ULTIMATE SUCCUBUS CONCENTRATE
You might also like 15 other products seleted for you