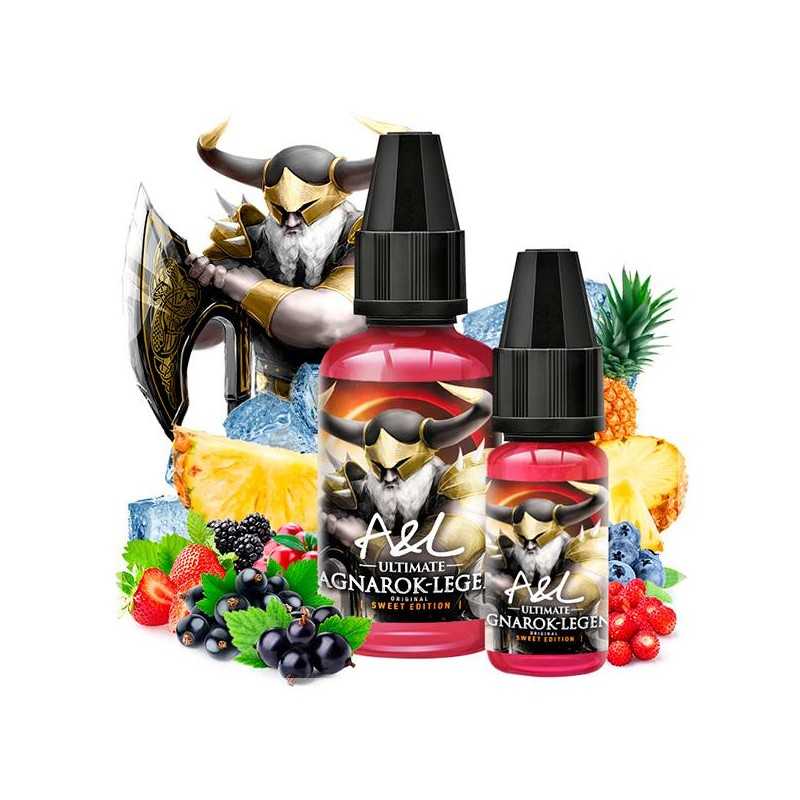 zoom_in
Concentrate Ragnarok Legend 30 ml Ultimate. This concentrated aroma plays the exotic card by adding pineapple to the original Ragnarok recipe. The whole form a large mix of fruity, powerful and iced flavours. It's enough to write a new page of the Legend of Ragnarok!
So get your horned helmet and explore Valhalla with ragnarok Legend concentrate!
This Ultimate concentrate is to be mixed with a PG/VG base for the manufacture of your e-liquids for e-cigarettes.
Recommended dosage for 50/50: 5%
Recommended maturation time: 2 to 3 days
Ragnarok Legend 30 ml concentrate is made by Ultimate.
Concentrate Ragnarok Legende 30ml Ultimate by Aromas and Liquids
Reference:

Concentré Ragnarok Legende 30ml Ultimate by Arômes et Liquides

Description
The fruity concentrate par excellence elevated to the rank of legend!
Find your Ultimate Ragnarok Legend concentrate in two versions:
Sweet/Original, a delicately sweet version for an explosive recipe.
With the arrival of the Ragnarok, a legend was born. Pillar and spearhead of the Ultimate range, Ragnarok and its blend of red fruits mixing blackcurrants, blackberries, strawberries, raspberries, blueberries and a few juicy currants has already conquered the palates of thousands of vapers around the world.
It is following his gustatory prowess that the pandas of A-L decided to soften him in a very closed clan, putting his name in the rock, making him a legend!
The recipe evolves and is sublimed by a touch of pineapple that makes all the difference. Between a hint of exoticism and juicy notes, this new armor gives the Ragnarok Legend an extraordinary character, a brand new aromatic power of striking rarity.
True to its Nordic origins, the Ragnarok Legend retains its exhilarating freshness that will make your taste buds shiver with each puff, making it as intense as it is addictive.
A wonderful blend of red fruits and exoticism
The pandas of A-L have prepared a most surprising recipe for you... A new nod to the legends of Nordic mythology where Ragnarok had a special place... Welcome to the Ultimate range!
Aromas and Liquids invites you to discover an advanced version of the famous Ragnarok. A red fruit base with a blackcance that remains unchanged, but is magnified by the addition of a finely selected pineapple. Juicy and powerful, pineapple brings a whole new identity to this myth of vape, to the delight of our taste buds.
The poignant freshness that makes the soul of this DIY is obviously preserved to get all the depth it deserves. It already defines itself as an unstoppable fruity all-day for a merciless reign that is not about to end!
More information
The Ragnarok Legend of the Ultimate range is a concentrated aroma made in France by Aromas and Liquids.
This concentrate should be mixed at the base of your choice to make e-liquid for e-cigarettes. For a base at the rate of PG/VG 50/50, it is based on 27 drops per 10ml or 5%.
You will then have to let it mature for two to three days to get the best rendering. It is available in pet bottles with fine tips with a safe children in 10 or 30ml.
You might also like 14 other products seleted for you