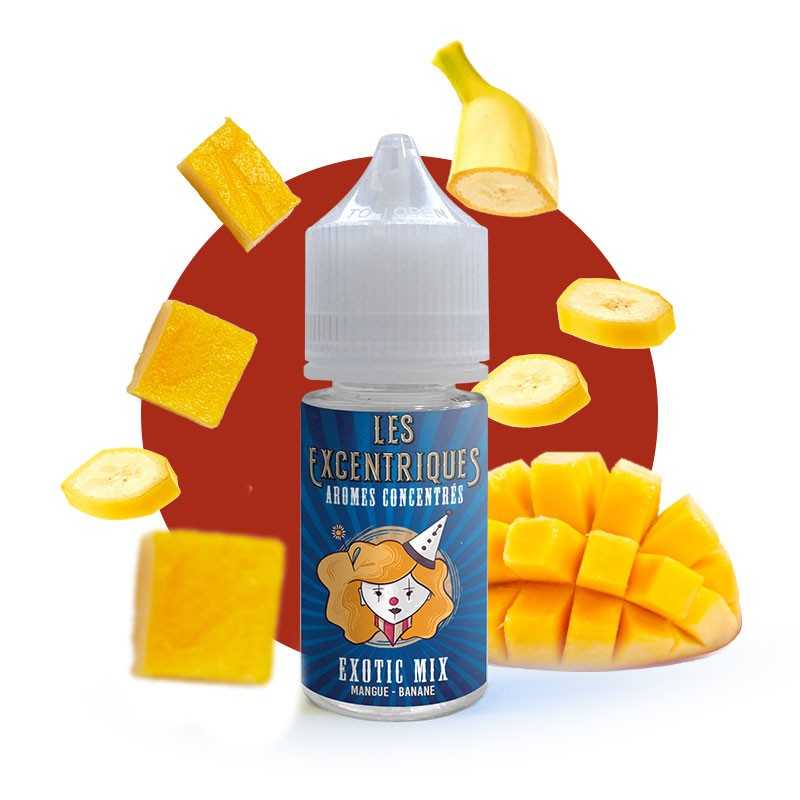 zoom_in
Mango - Banana

-----
A harmonious mix of exotic fruits dominated by mango and banana.
-----
Recycled plastic bottle (PET1) of 30 ml of concentrated aroma developed in our laboratory in Cestas (33) -
-----
Be careful, this is a concentrated aroma, it is not consumable as it is and must imperatively be diluted in a PG / VG base.
Aroma Cirkus Eccentric Exotic Mix
Reference:

Arôme Custard Fraise

Description
OUR REQUIREMENTS:
At VDLV, in order to ensure the safety of our consumers, we have established very strict specifications for the choice of our flavors:
Food-grade flavours in liquid, natural form (natural aromatic preparations or substances), or synthetic soluble in propylene glycol.
Flavourings or flavouring mixtures must be formulated in accordance with Regulation (EC) No 1334/2008 and must comply with the requirements in terms of limit concentrations of heavy metals.
We use as possible supports for aromas: PE or USP grade propylene glycol, non-pharmaceutical and undenatured food grade alcohol(with ethanol content <40%vol.), vegetable glycerin of PE or USP quality.
We check the absence of the following compounds in our flavors: Added sugars, parabens, ambrox, gums (xantane, acacia ...), mineral or vegetable oils, ionized products, food supplements, drugs and active ingredients, formalin-releasing preservatives, acrolein, furfural.
Upon receipt of the aromas, we analyze internally by chromatographic methods the following compounds (with proven or uncertain toxic potential), in order to verify their absence or presence in trace amounts : acetyl propionyl, acetoine, 2-3 hexane dione, food allergens, limonene, coumarin, pulegone, linalool, benzyl benzoate, benzyl cinnamate, alpha and beta thujones, cinnamaldehyde, farnesol, citral, 4-menthoxybenzyl alcohol, 2-benzyliden heptanal.
We also analyze the presence and level of nicotine and tobacco alkaloids present in a tobacco flavouring or flavouring mixture based on tobacco, and the presence and concentration of essential oil in an aroma.
We avoid pure natural extracts that have not been previously treated by water/alcohol "washes" or deterpenation sequences.
The concentrated flavours offered by VDLV have the same quality and compositional requirements as those used in the manufacture of our e-liquids.
For more details, do not hesitate to consult our Safety Data Sheets (SDS), available on request.
.
COMPOSITION:
- Natural and synthetic food flavors, of vapologic quality. They do not contain sugar or gum.
- Alcohol (1.2% Vol., support of our natural flavors). The following Cirkus aromas contain it: Apple Absinthe, Red Absinthe, Red Fruits, Fruity Pamp, Lemon Ice, Chloro Mint, Pina Strawberry, Coco Cream, Creamy Peach, Strawberry Custard, El Nougat, Sun Time.
- Propylene glycol of PE quality (European Pharmacopoeia) as a basic support of the aroma.
.
DOSAGE:
Our concentrated aromas are not consumable as they are, they must be diluted in a base.
For 10ml of e-liquid, we recommend a dilution to
- 10% of the total volume (about 30 drops) on a PG/VG basis of 70/30.
- 15% of the total volume (about 45 drops) on a PG/VG basis of 50/50.
- 20% of the total volume (about 60 drops) on a PG/VG basis of 30/70.
.
CONDITIONING:
The concentrated Eccentric flavours are packaged in polyethylene terephthalate (bisphenol-free) plastic bottles, recycled (PET1), with a capacity of 20ml, equipped with a dropper, a tamper-evident ring and a child-resistant cap (ISO 83 17).
In accordance with European legislation, each bottle has a personalized label mentioning the name of the flavor, the composition of the product, the name, address and website of the company, the expiry date of optimal use and the batch number.

BOTTLE RECYCLING:
The logo
affixed underneath our empty packaging, once rinsed with water, is recyclable.
.
CONSERVATION:
We advise you to keep these aromas away from light, in a dry and temperate place out of the reach of children and animals.
You might also like 11 other products seleted for you