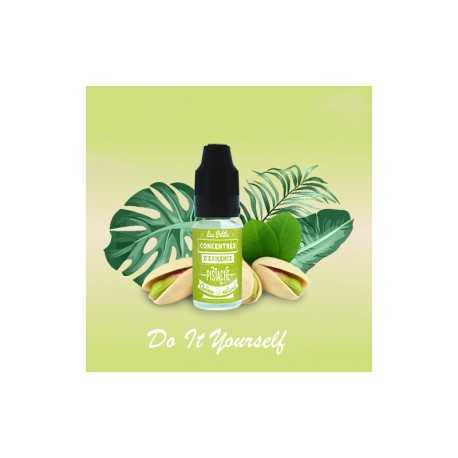  
Pistachio aroma
The natural pistachio.   
The fruit of an ideal roasting, pleasant volute, its almond notes are readily matched at the coffee break.
----
Recycled plastic bottle (PET1) of 10 ml concentrated aroma developed in our laboratory in Cestas (33) -
Beware, this is a concentrated aroma, it is not consumable as it is and must be diluted in a PG/VG base
100% Secured Payment
By Credit Card or Paypal
Free Shipping for Orders over 60€
Only for UE's members countries
Satisfied or Refunded
14 days to change your mind
Composition:
- Exclusively natural food flavourings produced according to the requirements of our specifications. They contain no sugar or gum.
- PE quality propylene glycol (European Pharmacopeia) as the basic support for the'Aroma.
- This product may contain traces of nuts.
Determination:
Our concentrated aromas are not consumable as they are, they must be diluted in a base.
For 10ml of e-liquid, we recommend dilution
- 10% of the total volume (about 30 drops) on a PG/VG basis of 70/30.
-       15% of the total volume (about 45 drops) on a PG/VG basis of 50/50.
- 20% of the total volume (about 60 drops) on a PG/VG basis of 30/70.
 Packaging:
Our concentrated aromas are packaged in polyethylene terephthalate plastic bottles (without bisphenol), recycled (PET1), with a capacity of 10ml, with a dropper, an inviolability ring and a child safety cap (ISO 83 17).
In accordance with European law, each bottle has a personalized labeling including the name of the flavour, the composition of the product, the company's name, address and website, the optimal use-by date and the lot number. 
Conservation:
We advise you to keep these aromas out of the light, in a dry and temperate place out of the reach of children and animals.
No customer reviews for the moment.
Customers who bought this product also bought: