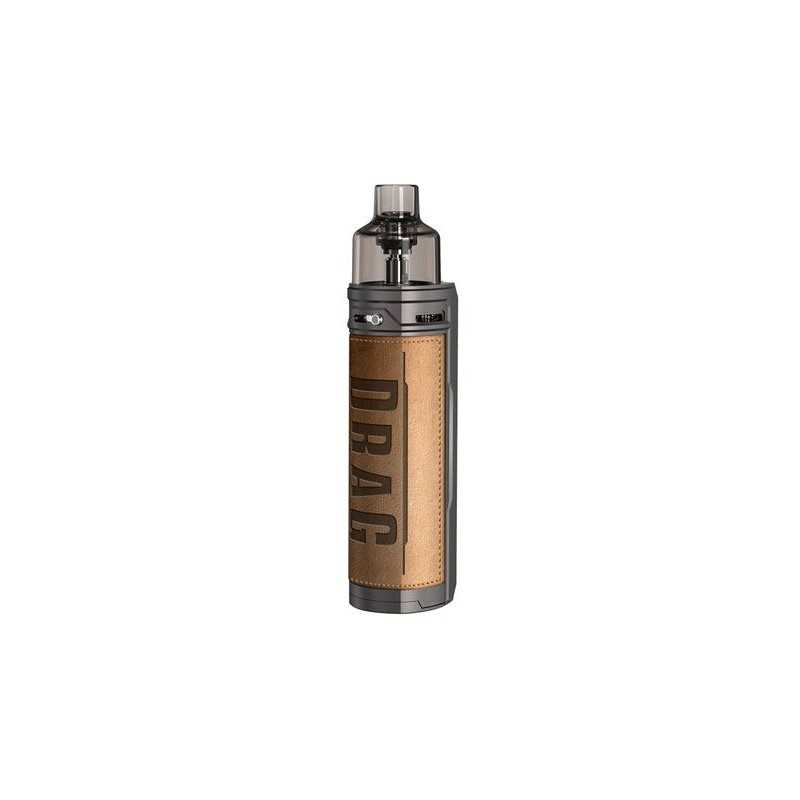 zoom_in
The mod pod Drag X de Voopoo fits your hand perfectly and its airflow adjusts to your liking.
Works with an 18650 battery (not included) and delivers up to 80w of maximum power.
It is compatible with the resistances of the PnP range!

Description
WARNING: This Pod is sold without battery!
VOOPOO, the genius of vape, has accumulated success! The Pod Mod Drag X could well be the knockout blow to the competition.
The Pod Drag X works with an 18650 accu which allows you to unceasing throughout the day. As soon as the battery is installed through the bottom hatch, the chipset Gene.TT will activate and be able to send a maximum power of 80 watts. The Pod Mod Drag X will respond safely to all vapers. They will be able to enjoy a DL or MTL vape thanks to a revisited airflow. The latter is adjusted via a "lever" positioned on the front of the Pod. Surgically accurate, this airflow Made In VOOPOO stands out for its ease of use.
For the Pod Drag X, VOOPOO opted for an 18650 accu. This system ensures a generous autonomy without impacting the weight and size of the Pod Mod. In addition, unlike a built-in battery, the battery allows you to vaper continuously! As soon as the battery is empty, you can replace it with a full battery. To insert the battery into the body of the Drag X, VOOPOO has set up a hatch under the pod. installing the 18650 battery only takes a few seconds! As soon as it is installed, the chipset Gene.TT will activate.
VOOPOO's Pod Drag X delivers high-precision adjustable airflow. Thanks to this adjustable airflow, vapers will be able to obtain a DL or MTL vape. VOOPOO is unique and does everything possible to stand out: The manufacturer has therefore imagined an original airflow. The latter takes the form of a "leverage" which makes it very intuitive. Unlike a conventional airflow ring, this "lever" can handle the airflow with closed eyes. Great VOOPOO!
VOOPOO's Pod Mod Drag X carries a 4.5 ml cartridge of capacity. Ultra-generous, the latter can receive all the PnP resistances as well as the PnP RBA tray. This incredible versatility allows the Pod Drag X to meet absolutely all expectations. Excessive steam production, faithfully rendered flavors or hit in a sustained throat, everything is possible with the Pod Mod Drag X. VOOPOO has just revolutionized the vape by launching a Pod that is perfect.
Type de vape

Inhalation polyvalente

Protections électroniques

Oui
You might also like 9 other products seleted for you