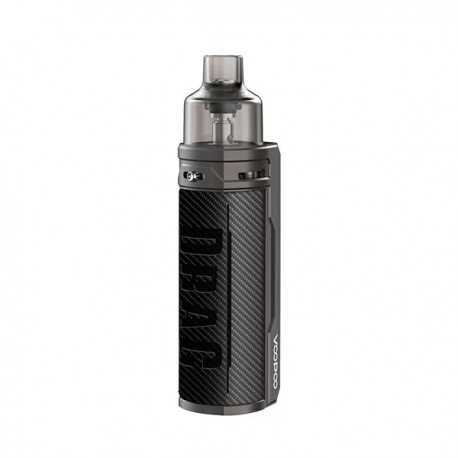 zoom_in
The mod pod Drag S de Voopoo fits your hand perfectly and its airflow adjusts to your liking.
Its built-in 2500mAh battery allows you to use it every day, delivering up to 60w of maximum power.
Compatible with the resistances of the PnP range!

Description
Built-in battery 2500 mAh
Nothing can stop VOOPOO anymore. The vape virtuoso continues his ascent and proposes the Pod Mod Drag S.
This next-generation Pod has a built-in 2500 mah battery with ultra-fast charging. VoOPOO's 4.5 ml PnP Tank cartridge, which can handle all PnP resistances and the PNP RBA tray, once again plays the versatility card. Versatile, this Pod knows how to be generous by offering a maximum power of 60 watts and manages to innovate by offering a unique airflow.
VOOPOO's Pod Mod Drag s takes advantage of the all-new Gene.TT chipset. Capable of delivering a maximum power of 60 watts, the latter also stands out for its exceptional responsiveness. Only 0.001 seconds separates the heat from the resistance of the pressure on the switch. To these possibilities, the Drag S pod allows the power to be automatically adapted according to the installed resistance, to manually manage the wats or to select a trigger of the heat by suction or pressure on the switch. VOOPOO has an overflowing imagination.
VOOPOO returns with the Pod Mod Drag S. This revolutionary pod carries a large battery of 2500 mah. This consequential autonomy has no impact on the size of the Drag S. The latter is only 87 mm high and 28 mm wide. That's a great achievement. To make ergonomics flawless, VOOPOO has opted for a design that is close to the current mods: The result is stunning. VOOPOO delivers on all its promises and presents a revolutionary mod.
Pods that offer an adjustable airflow are rare. Those that manage the flow of air opt for a classic ring. With the Drag S, VOOPOO projects us into the future. The management of the air is done by a "lever" that is enough to push. Located on the front of the pod mod, this "lever" shines with its efficiency and practicality. Thanks to this airflow, MTL and DL vape enthusiasts are delighted. VOOPOO thinks of every detail!
Type de vape

Inhalation polyvalente

Protections électroniques

Oui
You might also like 6 other products seleted for you