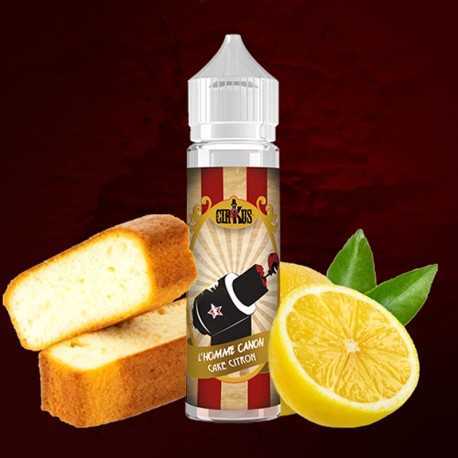 zoom_in
Cake - Lemon
----
The Canon Man has a somewhat explosive character. Let's say it doesn't take much to light the fuse. There's only one option to prevent him from blowing up the shack: his favorite lemon cake! A gluttony he loves.
----
60ml flask fills 50ml of nicotine-free e-liquid to boost.
PG/VG 50/50
E-liquid Man Canon 50ml
Reference:

E-liquide l'Homme Canon 50ml

Description
All our e-liquids are manufactured and controlled in our laboratory in Cestas in Gironde.
The Black Cirkus collection consists of a PG/VG base: 50/50
Composition:
Propylene glycol and vegetable glycerin, of PE quality (European
Natural and synthetic food aromas of vapological quality. They contain no sugar or gum.
Ultra-pure water (Milli-Q).

USE TIPS




Packaging:
Our Black Cirkus e-liquids are packaged in PET vials with a capacity of 60ml, with a dropper, an inviolability ring and a child safety cap.
In accordance with EU law, each bottle has a personalized labeling of the design and name of the flavour, the composition of the e-liquid, the nicotine level, the company's name, address and e-commerce site, minimum durability date and lot number.

RECYCLING BOTTLES:
The logo
affixed below our empty packaging, once rinsed with water, are recyclable.


Nicotine levels0 mg/ml
Analyses:
Our e-liquids are regularly analysed with the constant concern for optimal traceability and safety (microbiological analyses and chemical analyses: nicotine and impurities, aromatic spectrum, absence of formaldehydes, acetaldehydes, parabens).
All of our e-liquids comply with XP-D90-300 Part 2 (diacetyl rate well below 22 ppm) and for constant safety reasons, we also monitor levels of acetyle propionyl, hexane 2.3 dione and acetoin).

Clp:

Keep children out of reach.
Contains VANILLINE. May produce an allergic reaction.

You might also like 3 other products seleted for you