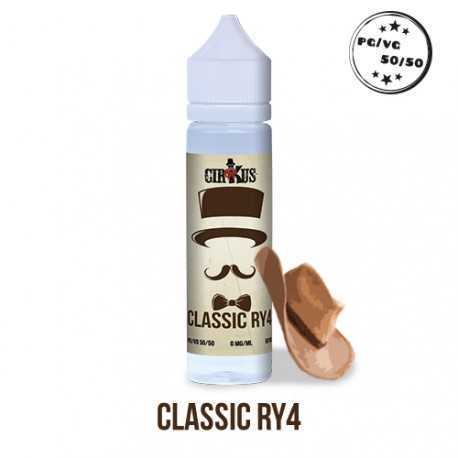 zoom_in
The classic blond with a caramelized tip while rounding.
---------
60ml flask fills 50ml of nicotine-free e-liquid to be boosted


--------
Based on natural aromas and synthesis.
--------
Available only with a PG/VG rate of 50/50.
E-liquid Classic RY4 - Edition 50ml by cirkus
Reference:

Classic RY4 - Edition 50ml

Description
we our e-liquids are manufactured and controlled in our laboratory in Pessac in Gironde.
The Authentic collection consists of a PG/VG base: 50/50
Composition:
Propylene glycol and vegetable glycerin, of PE quality (European
Natural and synthetic food aromas of vapological quality. They contain no sugar or gum.
Ultra-pure water (Milli-Q).

USE TIPS


By adding 2 Nico Fill to your e-liquid to boost you will get a rate of 5.71mg/ml of nicotine.
Don't hesitate to get a 125ml empty bottle available in the category DIY accessories to be able to carry out your preparation.
RELATED: By adding more than two Nico Fill in 10ml and 20mg/ml, you may dilute the final mix too much and lose taste power.
We recommend adding a maximum of 2 vials of Nico Fill to preserve the balance and aromatic power of the recipe.


Packaging:
Our Cirkus Authentic e-liquids are packaged in PET vials with a capacity of 60ml, with a dropper, an inviolability ring and a child safety cap.
In accordance with EU law, each bottle has a personalized labeling of the design and name of the flavour, the composition of the e-liquid, the nicotine level, the company's name, address and e-commerce site, minimum durability date and lot number.

RECYCLING BOTTLES:
The logo
affixed below our empty packaging, once rinsed with water, are recyclable.


Nicotine levels0 mg/ml
Analyses:
Our e-liquids are regularly analysed with the constant concern for optimal traceability and safety (microbiological analyses and chemical analyses: nicotine and impurities, aromatic spectrum, absence of formaldehydes, acetaldehydes, parabens).
All of our e-liquids comply with XP-D90-300 Part 2 (diacetyl rate well below 22 ppm) and for constant safety reasons, we also monitor levels of acetyle propionyl, hexane 2.3 dione and acetoin).
You might also like 3 other products seleted for you